Forgive the link back to Bunyan's pivotal work but right now it fits perfectly.
Pilgrim's Progress is a story I teach every year (albeit in a much shortened state) and it has come increasingly clear how much it can relate to my depression, if we just remove the overtly Christian moralising.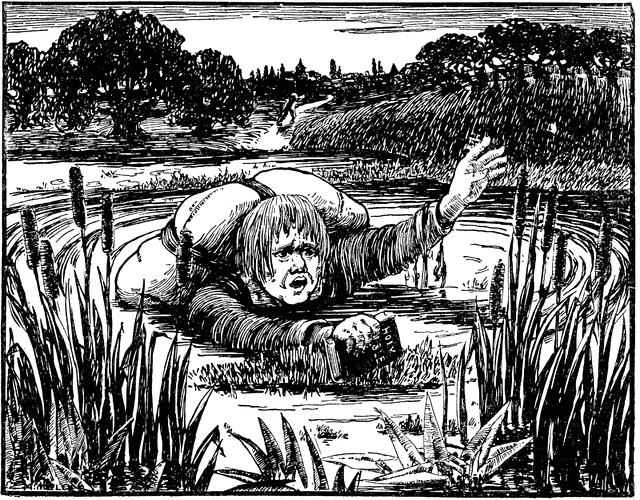 I teach RE and it is a subject I adore, I am extremely passionate about the religious world and what it can teach us about the human state. I personally do not believe in God but I do follow a major religion (believe me that confuses many of my pupils). My religion has helped give me focus in the past and is a source of great comfort to me but I am finding it harder to ignore the pull of the dark thoughts into my personal Slough of Despond.
For those of you who are unfamiliar with Pilgrim's Progress the story (in the form of an allegory) follows Christian on his journey from the City of Destruction to the Celestial City and charts all the barriers he faces on the way. Characters, such as Evangelist, Mr. Worldly Wiseman, Faithful etc either help or hinder his progress. The Slough of Despond happens very early in the story after Christian is tempted off his path by Worldly Wiseman and finds himself stuck in trouble. Throughout the early part of the story Christian carries his 'burden', a metaphorical emotional baggage made real linked into the Christian ideas of the Seven Deadly Sins.
Today I really feel like my burden is sinking me into the mire. I had been doing so well so I'm not sure why a set back at this stage has come as a surprise, I have been here before and know that recovering from depression is no easy thing, it is often a one step forward, two steps back kind of process and even sometimes completely veering off left at the traffic lights. There is no one particular thing that has set this off, just that today is hard and I am struggling to get through it.
Yesterday was my 6th wedding anniversary and for the first time I spent it apart from my husband, but that in itself is not enough to have caused this. The Prozac has definitely kicked in and, I feel, is working but I could be wrong about that. I am not sleeping well for certain. My baby is extremely active at the moment both day and night and seems to delight in stretching herself as far as she can which is uncomfortable at best! Add in my elder daughter who is insisting on sleeping in my room at my parents' house and I am not fully rested. Normally we do co sleep about 50% of the time and I do not mind it a jot but we have a kingsize bed at home which helps and a double in her room which means more recently I have been left to stretch out in comfort as my husband does the sleeping duty. The tiredness could be part of the problem but I don't feel it is enough to blame entirely on how I'm feeling.
It could just be one of those days? So I am going to get to the end of today and face tomorrow anew, in the hope that my own version of Help can pull me out of this mess.